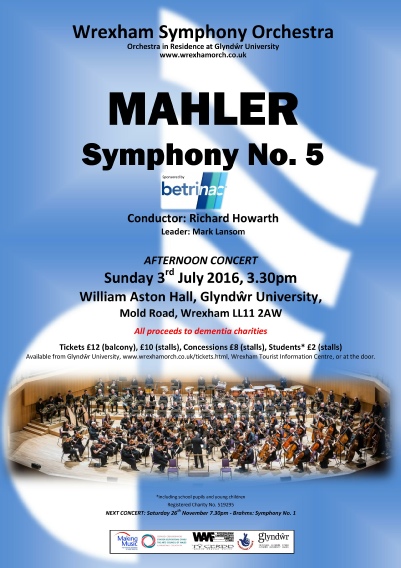 Welcome to Wrexham Symphony Orchestra's website.
We hope you enjoyed our recent performance of Shostakovich, Rachmaninov and Sibelius as much as we did! Thank you for your support.
The orchestra has already begun preparations for its July concert. This is now on July 3rd rather than the original date, due to circumstances completely beyond our control (a Stereophonics gig at the football stadium literally a stone's throw away from our concert hall). The time has changed too, to 3.30pm, which proved quite popular in our February concert.
We will be performing Mahler's epic fifth symphony, which will actually be the seventh in our series of Mahler symphonies, with only Eight and Nine to go. All the symphonies have been generously sponsored by Betrinac, and all proceeds from the concert will go to dementia charities. A sum well into five figures has already been raised though these concerts, and most recently a cheque for £3000 was donated to the Wrexham Memory Clinic at the Maelor Hospital in Wrexham. This resulted in the orchestra being shortlisted for an Arts and Business Cymru 2016 award.
More details can be found on our Concerts page here, along with a what will eventually become a comprehensive list of previous concerts. You can also download our 2015/16 leaflet here.
You can download a copy of the poster in PDF format here, and for orchestra members there's a rehearsal schedule in the Members section.
You can now download the new edition of our newsletter "Orchestrate" here.
As we return to out Mahler series it is always good to remind ourselves of that fantastic day back in May 2015 when the orchestra played Mahler 2 at Bridgewater Hall, Manchester. There is a gallery of photos by Mark Carline available to see here.
There is plenty of information about the orchestra on its Facebook group, Twitter feed - @wrexhamorch and Facebook page. If you want to contact the orchestra please do so through wrexhamso@gmail.com. Thanks for showing an interest in Wrexham Symphony Orchestra.
All pages within the domain http://www.wrexhamorch.co.uk/ are property and copyright of Wrexham Symphony Orchestra 2015-6