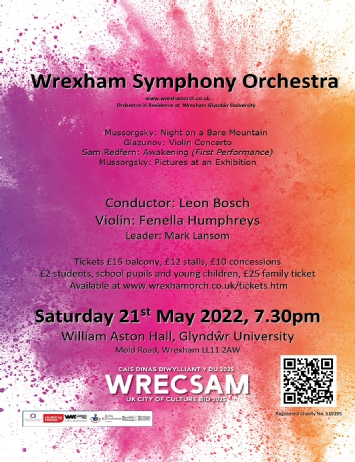 Welcome to the website for Wrexham Symphony Orchestra.
Tickets are now on sale for our next concert, conducted by double bass virtuoso Leon Bosch and featuring a return for violinist Fenella Humphreys. We are excited also to be giving the premiere of "Awakening", a piece written by local film composer Sam Redfern.You can purchase them from the tickets tab or through this link. We look forward to seeing you all on Saturday 21st May!
WSO has a direct link with the university, and as such is unaffected by any of the issues you may have read about concerning the company that until recently ran events at the hall.
You can read more about future and past performances at our Concerts page.
If you would like to donate towards the work the orchestra does or support it in any way please use the PayPal button below. A big thanks to those of you who have already done so.
For Orchestra members, there is a rehearsal schedule on the Members page.
There is plenty of additional information about the Orchestra within this website and on our Facebook group, Twitter feed - @wrexhamorch and Facebook page. If you want to contact the Orchestra, please do so through wrexhamso@gmail.com.
Thanks for showing an interest in Wrexham Symphony Orchestra.
All pages within the domain http://www.wrexhamorch.co.uk/ are property and copyright of Wrexham Symphony Orchestra 2015-21