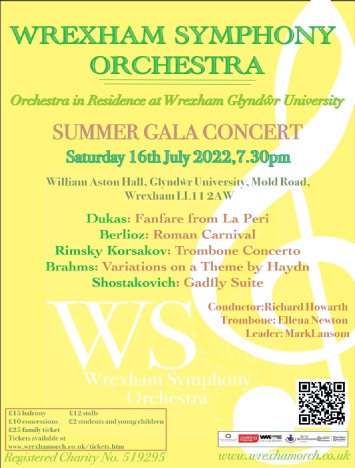 Welcome to the website for Wrexham Symphony Orchestra.
We look forward to welcoming you to our concert on July 16th, and welcoming back conductor Richard Howarth in aprogramme originally due to be performed in July 2020. Virtuoso trombonist Ellena Newton joins us in the Rimsky Korsakov concerto, and the main work in the second half is Shostakovich's "The Gadfly".
Rehearsals have been going really well and we can't wait to share this exciting music with you all!
Tickets are available through the ticket page of this website or through this link.
At our last concert we actually managed to run out of programmes, so you can if you wish download a copy here. On an honesty basis, you can if you want make a donation for the programme at the PayPal link below.
You can read more about future and past performances at our Concerts page.
If you would like to donate towards the work the orchestra does or support it in any way please use the PayPal button below. A big thanks to those of you who have already done so.
For Orchestra members, there is a rehearsal schedule on the Members page.
There is plenty of additional information about the Orchestra within this website and on our Facebook group, Twitter feed - @wrexhamorch and Facebook page. If you want to contact the Orchestra, please do so through wrexhamso@gmail.com.
Thanks for showing an interest in Wrexham Symphony Orchestra.
All pages within the domain http://www.wrexhamorch.co.uk/ are property and copyright of Wrexham Symphony Orchestra 2015-22